COMP CAMS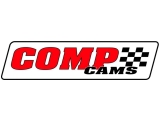 COMP CAMS
For more than 35 years, the COMP Cams mission has never changed: to produce the highest-performing products possible, provide customers with superior service, and to lead the industry in technological development. While the COMP Performance Group has grown to multiple companies and hundreds of employees, we still retain the competitive spirit and desire to be the very best that has positioned COMP Cams as the absolute leader in valve train components.
Performance
COMP Cams has never forgotten that performance is defined by results –both at the track and on the street. We spend thousands of hours working with individuals, teams and companies to ensure that our products provide superior performance and reliability. Whether we're working with a Pro Stock or Sprint Cup team, or putting thousands of grueling miles on one of our pro touring or street/strip components, we test our products in the same places you do. That's why we know that every COMP Cams product will perform to the highest of standards.
Service
Choosing a camshaft and valve train products isn't like buying an oil filter. Everything in your valve train is part of a complex interlocking system that needs to perform well as a combination. That's why we provide expert technical assistance to our customers –free of charge. Our staff of expert technical advisors, backed by a vast inventory of precision-manufactured valve train components -will help you to make sure that you have the right parts for your application.
Technology
COMP Cams is driven by technology. We employ the industry's largest and most highly trained engineering staff, and the most sophisticated manufacturing processes and test equipment in the world. And because of our wide scope of applications, technologies developed for the highest levels of NASCAR and NHRA will find their way into our products for your street machine, too. The integration of research, engineering and development at COMP Cams is what we call our "Systems Technology" and it consistently proves itself by out-performing the competition.
Results
COMP Cams competitive drive, superior engineering, and cutting-edge technology has helped us to produce more champions than any other camshaft manufacturer. We work with the best teams in circle track, drag racing, road race and off-road racing. Whether you're looking for horsepower, reliability, or gas mileage, COMP Cams has the products that will deliver.