Chevrolet PERFORMANCE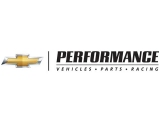 Chevrolet PERFORMANCE
The inception of GM Performance Parts, now known as Chevrolet Performance Parts, began in the late 1960s. At only 27, Ernie Callard was invited to a high-level GM Directors meeting to discuss the factory support needed for various Trans Am racing teams. Management had two concerns: Where do they store the parts, and how do they ship the parts? Above all, Callard was instructed to never run out of parts for the GM teams.
With those directions, Callard was put in charge of a new line of high performance GM parts. Initially, the parts were planned to be "no code" parts so that no one could track what they were, where they were going, or who finally received them. But, Callard had a slightly different idea: "I told them, 'Let's put a number on the parts. Let's sell them! Let's make these parts available to anyone who wants them for their own cars!'"
The GM executives agreed, and Callard was in the high performance parts business. Although it's doubtful that he knew it at the time, Callard's early concepts of high performance part numbering, configuration, packaging, and distribution initiated the concept of a "crate engine" as well as laid the groundwork for what is known today as Chevrolet Performance Parts.
Soon, high performance fans were buying up speed parts to enhance the performance of their Corvette, Camaro, Nova, Impala, or Hot Rod. "GM built many more engines than vehicles that were sold," tells Callard. "So we grabbed up the remainder, put them into crates, and sold them as the first 'crate engines'." And by 1970, the crate engine line was in full swing.
Something else happened in 1970 that would change the course of automotive history — GM got back into NASCAR. A "gentlemen
's agreement" had kept all of the Big Three automakers out of NASCAR, but a small group of enthusiasts deep within GM wanted to get back into the sport. GM's involvement was on an unofficial level, but it brought about a big change behind the scenes at GM.
The company's long association with Junior Johnson helped the legendary Wilkesboro, N.C., campaigner build one of the strongest organizations in NASCAR history, winning three straight titles with Cale Yarborough in the seat in 1976, '77 and '78, along with the Daytona 500 crown in 1977.
With Childress, GM Performance Parts finally got its full due, as the logo was placed proudly on the number 3 of Dale Earnhardt's Winston Cup car, and the number 2 ACDelco machine that he campaigned in Busch races.
Like the mobile rigs and car show displays, the business around GM Performance Parts quickly grew up around Callard. In 1986, GM placed GM Performance Parts under the direction of the Materials and Product Development Department. In 1988, the modern version of the GM Performance Parts logo first appeared.
In 1989, the first GM Performance Parts catalog hit the GM dealer's counters. Now, dedicated performance engines could be ordered "in the crate" and the floodgates were open.
Racing has always been and will remain the cornerstone of product development and marketing at Chevrolet Performance Parts. In 1986, GM Performance Parts began their official relationship with Warren Johnson as a sponsored NHRA Pro Stock drag racer. Many NHRA Championships later, "The Professor" is still one of the top threats to win on race day.
The decade of the '90s began an era of extreme growth in the performance parts business, which continues to today—from 1993–2001, annual sales more than tripled.
One of the hottest products to come out of that demand was the ZZ572 big-block crate engine in both 620-horse pump gas and 720-horse race fuel configuration.
No business can be successful without satisfied customers. To best reach the performance consumer with product, an authorized network of dealers was developed in the mid–'90s. To further extend their reach into the market, GM Performance Parts launched their own stand alone website on August 1, 2006.
Callard is the first to admit that today's Chevrolet Performance Parts is much more visible and better run than what he was first handed in the 1960s. In February of 2006, Ernie Callard retired from GM, but he remains an honorary consultant for Chevrolet Performance Parts.
Regrouped and reenergized in late 2011 Chevrolet Performance Parts maintains its place as a cross-brand marketing giant within the high performance aftermarket community. With components, and dozens of engineering projects relating to a wide range of makes and models released monthly, the future of the Chevrolet Performance Parts certainly looks bright.