ARP (AUTOMOTIVE RACING PRODUCTS)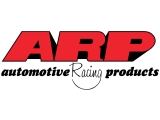 ARP (automotive Racing products)
They say that to be successful you must identify a need and satisfy it. Back in 1968 racing enthusiast Gary Holzapfel saw that many of his friends' broken engines were caused by fastener failure.
At the time, there were no commercially available studs and bolts up to the challenge. So Holzapfel called upon his many years of fastener making experience for a leading aerospace subcontractor and founded ARP (Automotive Racing Products).
In the ensuing years, the firm has grown from what was literally a backyard garage workshop into a highly diversified manufacturer with five operational entities in Southern California with a combined area in excess of 200,000 square feet. These include forging, machining, finishing and packaging/warehousing facilities in Santa Paula and Ventura, California.
There is even a unique racing-themed restaurant at the main Santa Paula facility - called "Hozy's Grill" - which is open to the public.
Today, ARP's product line contains thousands of part numbers, and has expanded to include virtually every fastener found in an engine and driveline. These range from quality high performance OEM replacement parts to exotic specialty hardware for Formula 1, IndyCar, NASCAR and NHRA drag racing and marine applications.